A Local's Calendar for Mardi Gras 2015
The parade routes are up and you most likely already have tickets to your favorite balls, but Mardi Gras is so much more than that. As you know, Mardi Gras is an entire season starting on 12th Night (Jan. 6th), but the real fun begins about 3 weeks before Mardi Gras day. Whether you live in New Orleans or just visiting, if you're looking to jazz things up this year and get off the beaten path, here are 10 events you can mark your calendar for.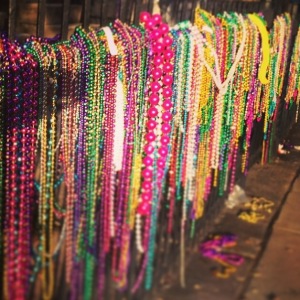 January 24th – 610 Stompers Annual Sweet 610 Debutante Ball, "The Superball" The 610 Stompers are arguably the most fun group in town, so a giant party thrown by them is sure to be a complete blast! It's open to the public and costs $50 per ticket in advance. The money raised will benefit the Youth Empowerment Project. This year's theme is Super Heroes, go grab your cape, mask & wig, and get ready for some extraordinary moves!
January 24th – The Funky Meters at Tipitina's You can't talk about New Orleans music without mentioning The Meters! They originated New Orleans funk and are responsible for bringing New Orleans second line grooves into pop music. If you're confused about the band's names, allow me to give a brief explanation. "The Meters" is the original name of the band which included keyboardist and vocalist Art Neville, guitarist Leo Nocentelli, bassist George Porter Jr. and drummer Joseph "Zigaboo" Modeliste. They were later joined by percussionist/vocalist Cyril Neville, but they officially disbanded in the late 70's.
After the break-up, Neville gained fame as part of The Neville Brothers, Modeliste toured with Keith Richards and Ron Wood, while Nocentelli and Porter "became in-demand session players and formed new bands." In 1989 Art Neville, George Porter Jr. and Leo Nocentelli reunited as "The Meters," adding drummer Russel Batiste Jr. to replace Zigaboo Modeliste. When Nocentelli left the group in 1994 they replaced him with guitarist Brian Stoltz, formerly of The Neville Brothers and renamed themselves "The Funky Meters." Needless to say, their music is legendary and an essential part of New Orleans history and culture! I included my Meters favorites in my Perfect Mardi Gras playlist, so I recommend starting there.
January 25th – King Cake Festival Do you really need any additional info? Just be there. It is a FREE event and will be held at Champions Square from 11a-6pm. Even though it is free and open to the public, you'll still need to bring some money for Tasting Tickets. $10 will buy you 10 Tasting Tickets, and you give each vendor 1 ticket per slice. They also give you a different colored ticket to vote for your favorite after you're finished with all of your tasting. Lines can get long for fan favorites' booths, so bring your appetite and patience!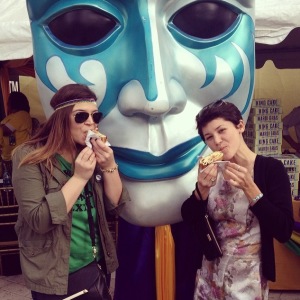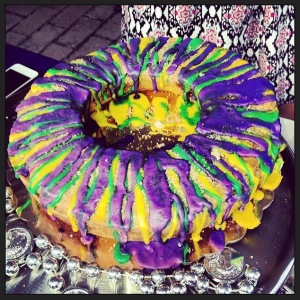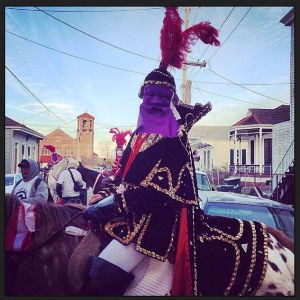 January 31st – Krew de Vieux Parade This notoriously "adult" parade kicks off the parade season and marks the official countdown to Mardi Gras. This year they are changing the route to go through the French Quarter and into the CBD. Get there early to claim your spot…you'll want a clear view of these controversially decorated & traditional-style floats which are driven by horse drawn carriages (In the 1800s, parades were originally street processions of maskers with carriages and horseback riders to celebrate Mardi Gras. Dazzling gaslight torches, or "flambeaux," lit the way for the krewe's members.) Join in on the fun and don a costume and bring your sense of humor!
February 1st – Super Bowl Sunday I know this isn't Mardi Gras related in nature, but you can turn it into one! Use this day to indulge in your favorite Mardi Gras recipes. If you really want to impress, try my Simple King Cake Bread Pudding recipe and my Dad's "Tick" Chicken & Sausage Gumbo recipe!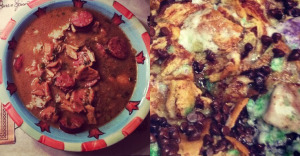 February 8th - Cree McCree's Nola Designer Costume Bazaar I heard whispers of this costume pop-up last year, but never made it. This year I will not make that mistake, especially since one of my life goals is to own a Costume Closet. Coming up with continuous costume ideas is challenging and requires a constant flow of inspiration. What better place to find it than a costume bazaar? It will be held on Sunday, Feb 8th at the Healing Center (2372 St. Claude Ave) from 10am-5pm.
February 14th – MoM's Ball The first rule about MoM's Ball is we don't talk about MoM's Ball. With that being said, I'm not even sure this is the exact day of the ball, but I am assuming it is because I attended last year and it was the Saturday before Mardi Gras. It was definitely wild! You must know someone who is in the Krewe to get invited, but good luck because tickets are in very high demand!
February 14th – Galactic at Tipitina's Want to really impress your Valentine? Sub your dinner & movie for dinner & dancing! Legendary New Orleans band at a legendary venue…'nuff said. Get your tickets in advance!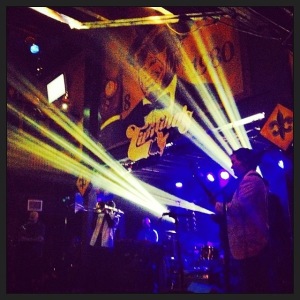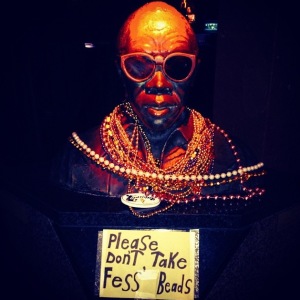 February 16th – Lundi Gras with Quintron & Miss Pussycat at One Eyed Jacks One of my most cherished New Orleans moments to date was when I attended their Lundi Gras show in 2014. Everyone was in costume and everyone was having the time of their life! Yes, they're weird. Maybe even creepy. But what better time (the eve of Mardi Gras day) and place (One Eyed Jacks in the French Quarter is my fave venue in the entire city) to soak up and enjoy all of New Orlean's beautiful weirdness!? Again, get your ticket early and prepare for chaos.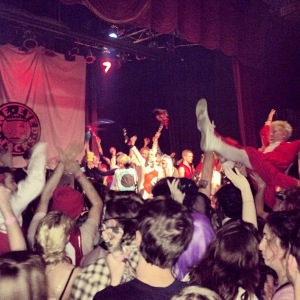 February 17th – MARDI GRAS DAY! The Grand Finale! If you're still alive and willing to move your body by Mardi Gras day, there's only one thing to do. Put on your best costume, make yourself a cocktail and get down to the French Quarter! Of course the center of the mayhem will be on Bourbon, but I recommend moseying around the French Quarter. The best parties are the unexpected ones, so keep an open mind and make some new friends!
If you want some sort of action plan, try joining up with the Krewe of Julu at some point. Their "parade" is a walking one, and you won't find it on any official parade tracker. They pride themselves on not actually having any organization or even much discussion about the celebration, but because of that they usually need financial donations to help pay for the brass band that leads them. The parade starts at noon sharp at The old Bridge Lounge, which is now Barrel Proof, under the I-10 bridge. They make their way through the French Quarter (stopping only at One Eyed Jacks) "before upsetting some very confused God-fearing folks in Jackson Square and continuing on to Frenchmen Street and DBA, where all the cats come out da box." Just remember, the only rule of Julu is that everyone needs a costume.
February 17th – Mardi Gras Night If you really want to shut things down like a local, bring your tired and drunk ass to The Maple Leaf Bar uptown to hear Rebirth Brass Band play! They play every Tuesday at Maple Leaf, but I imagine this performance will outshine any other.
My Top Parade Picks: Krewe de Vieux, Barkus, Muses, Tucks, Endymion, Bacchus, Orpheus, Zulu & Rex.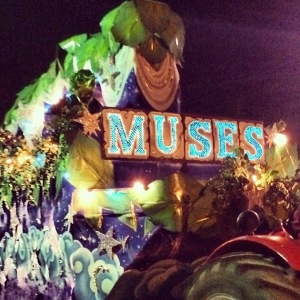 I recommend downloading WDSU's Parade Tracker app. It will give you all of the listings, routes, times & updates.
Happy Mardi Gras Y'all!
P.S. Remember to follow me on Instagram to catch all of our Mardi Gras madness!