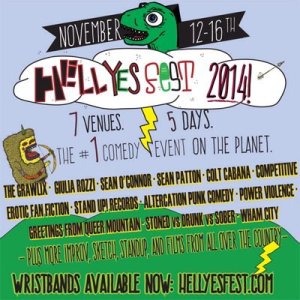 10 Reasons to go to Hell Yes Fest
10.Know how your parents have those awesome Jazz Fest posters from a thousand years ago? Hell Yes Fest is (kind of) the comedy equivalent to Jazz Fest. You can tell your grandchildren you used to go to Hell Yes Fest every year, BEFORE they did secret shows on the roof of One Shell Square.
9.When's the last time you took your best friend out to a comedy show? Seriously, why haven't you called him/her in a month? Call him/her up and say you're taking them to Hell Yes Fest. They deserve it. Rekindle that friendship.
8.You need more sketch comedy in your life. If you only get it from television, you're doing it wrong.
7.Hell Yes Fest is easily the best festival name you've ever heard. We were shocked when the dot com was available. Not only that but...
6. ...we have the best show titles. Competitive Erotic Fan Fiction! Greetings from Queer Mountain! Power Violence! Wham City! If you base your social activities based on cool titles alone, we've got you covered.
5.We've got tons of amazing shows from all over the country that we know will be much more difficult to book in the future when all these people are super famous and crazy busy. Come see them now.
4.Did you play video games when you were a kid? Chances are you've made fun of those video games a lot as an adult. Go see Late Bit on Thursday night and watch the professionals mock those old video games. That's right, Hell Yes Fest is also incorporating a video game element this year.
3.What's the funniest way to do comedy? We'll find out this year with the New Orleans debut of Stoned vs. Drunk vs. Sober, a stand-up comedy game show featuring performers in various states. This is a constant crowd favorite in Austin.
2.Hell Yes Fest is the Super Bowl of comedy, except there are no losers. Really, the only way to lose Hell Yes Fest is to ignore it completely. Oh, also, there's no trophies. We don't have trophies at Hell Yes Fest.
1. The local comedy scene is on fire right now. If you are unaware, Hell Yes Fest is the perfect time to get with the program. The easiest way to soak it all in and catch up with the momentum is to catch our opening night showcase at Cafe Istanbul.
Get your Hell Yes Fest tickets, schedule & more: www.hellyesfest.com
Written by Chris Trew
Follow @ChrisTrew on Twitter I wrote a book: Improv Wins The New Movement: Austin + New Orleans
>> Subscribe to my email list<<
Don't forget to enter our contest to win 2 FREE ALL-FEST WRISTBANDS here!